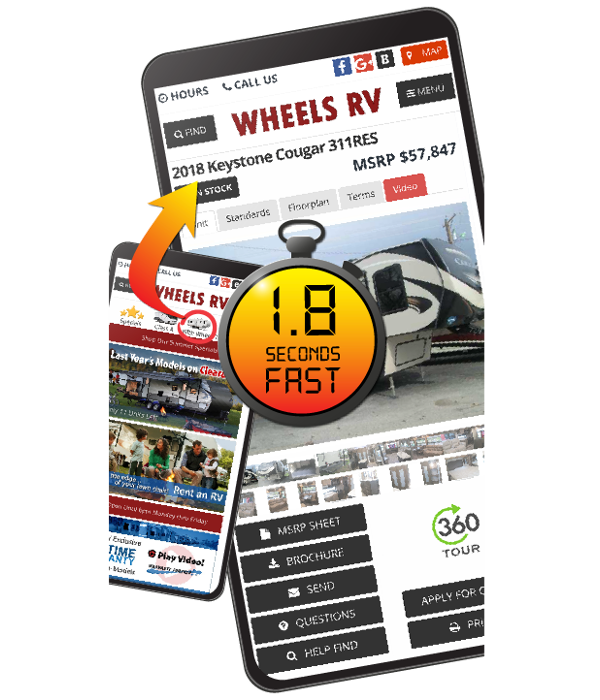 RV Dealer Websites.
Inventrue websites are best-in-class, with fluid, blazing-fast performance.
Phone Focused
Inventrue sites work great on a desktop, and OUR responsive technology ensures the same experience when that site is viewed on a phone. No other sites match our phone performance.
Optimized Power
Inventrue sites follow SEO Best Practices, include Schema code that search engines are scouring the Internet for, and serve up rich content FAST. We're finicky about doing this the absolute best.
True Inventory
Inventrue inventory is accurate because we correct input errors. Plus, units as varied as horse trailers, motorhomes and campers have independent data fields, and that unique data is embeded in our code to better match speech imputed searches.
Sticky Smooth
We study user ergonomics, and design our sites to deliver the same content to any device without dead ends. Even unit icons are tied to actual inventory. Attention to details sets us apart.
YOU'VE GOT THIS
Our websites are the top performers and we'll keep them there. Inventrue seamlessly ties with popular DMS, CRM and classifieds, to post inventory and gather and track leads. You can have the best.
Let's Do Perfect
Inventrue sites are accurate, loaded with content, easy to interface with, and the fastest in the industry. Bring your ideas and suggestions to us. Let's do perfect together!
Why Inventrue?
The PERFORMANCE.
Our Company
We began in 2012 by asking RV Dealers what THEY needed. We embrace critiques, suggestions and brainstorms and we're detail fanatics. The result is that Inventrue has the very best RV Dealer websites in the industry.
How do you get Support?
We do the heavy lifting in deploying a new site. We'll show you how to use the Dashboard, and you'll be able to add and manage inventory, add new site pages and update content, and change banners and announcements with confidence. In short order, you'll be a whiz. It's that simple.
Where can you find us?
Inventrue is headquartered in Springfield, Missouri. Want more info? Call 417.244.4635, email support@inventrue.com, or call Jim Zender at 417.319.3121 if you would like to set up a demo or a face-to-face meeting.
Why choose us?
Inventrue lets you decide which DMS, CRM, Marketers, Specialists or Classifieds meet your needs. We'll orchestrate a great experience for visitors to your site. Inventrue has the very best RV Dealer websites.
STATS
RV Library Units

Updates ytd

Mobile Users Ave

Ave Page Views

Bounce Rate Ave
Check out our work.
Price | Flexibility
Start with us. Then build your team with the DMS, CRM, email and digital marketing partners you want. We work well with ALL of them. Want a price? Call 417.244.4635 or email support@inventrue.com
Our Package
Priced as Flat Rate OR Units/Month
Month-to-Month Term
No Set-Up Fees
Launch Ready in Days
No Boarding Fees
No Banner Art Fees
Unlimited Pages
Unlimited Revisions
No Revision Fees
No DMS Integration Fees
No CRM Integration Fees
No Data Import Fees
No Data Export Fees
No Digital Integration Fees
No Cancellation Penalties
Full Library Access
Phone & Email Support
FAST Service Response
Very Different!
"Want to switch websites but faced with a Termination Penalty? We'll work with you on that."
"Don't settle. You can have a new site in just a few days!"
"We integrate systems with many dozens of different vendors."
"Is there a feature you need? Show us. We can most likely do it better"
Get in Touch
Need more information? Send us a note.