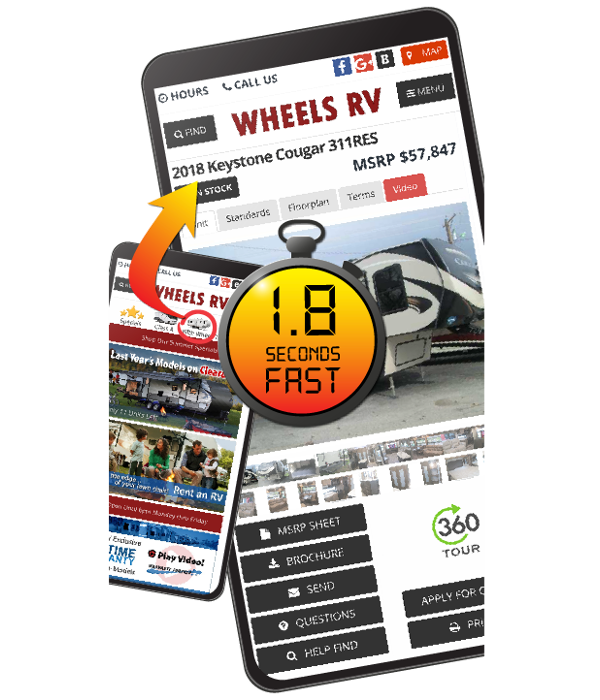 RV Dealer Websites.
Inventrue creates fanatically phone-focused, blazing fast websites for RV Dealers. We're different. Affordable monthly pricing, no site development fees, no cancellation fees and prompt, impressive service. You always get our BEST!
Phone Focused
If the foundation is wrong, inventory sites might look great on a desktop but become a totally frustrating experience on a phone. Our sites shine on all devices with the same, organized content.
Everyone at some point will almost certainly use their phone to browse your site. SEO rankings are weighted heavily to phone use. When sites are phone friendly they generate more page views, in some cases well over 80% of the total page views. Over 50% of all the views are often just from iPhone device users. This stuff matters!
Optimized Power
Most click-thru's are from "Googling". If you're not buying ad space, then you need expertly constructed pages to grab search engine attention.
You need a site that pays attention to content because Search Engines are trying to match users with content. To get above the fray you need the fastest loading site possible, adhering to SEO Best Practices, correct Schema constructs, nitty-gritty details and a sundry of proprietary techniques. That's what we provide.
Inventory True
Our site mechanics are product dynamic. That means a car, horse trailer, motorhome and pop-up camper can all be on the same site yet have independent data fields.
You want a smart inventory system because its index power eliminates search errors. Plus it needs to auto-fill from any DMS, or load direct in just a few minutes. Our sites are exactly that.
Our extensive RV library includes floorplans, uniquely crafted features and capacities. All entries have placeholders for images, videos and documents.
Sticky Smooth
Smooth keeps users engaged. Smooth is how we do it.
Website users won't tolerate slow load timeouts, hidden inventory, dead links, tedious scrolling, or circus antics that work on a desktop but mess-up on a phone.
Sites must help users find what they're looking, no matter which device they use for browsing. What one user sees on a desktop is what another user should see on their phone.
WE'VE GOT THIS
You want a website with system intelligence, to dynamically treat a wide array of types of inventory and most important, catch errors and glitches.
Our platform is designed to accept data and export data to any source. We even cleverly clean up sloppy DMS feeds to make sure units are correctly classified and locatable. The errors on your current site simply won't exist on ours. You might not even be aware of them, but your users probably are!
You Get Our BEST
Our goal is to have the most accurate, fastest inventory sites in the industry. Tell us what you need and we will most likely be able to make it happen. We know how to take ideas and make them execute slicker than anybody else.
We like suggestions because every enhancement creates a new perfect. Let's do perfect together!
Why Inventrue?
The PERFORMANCE.
Our Company's Values
We began this project back in 2012, by asking RV Dealers what THEY needed. When you visit our dealer sites, you're looking at what's evolved. We embrace critiques, suggestions and brainstorms without losing sight of your goals. Those who work with us know were fanatically serious about tiny details.
How do you get Support?
We do the heavy lifting in deploying a new site. You're going to have a ton of questions initially. We'll walk you through using our Dashboard, promptly resolve your questions, and in short order you'll be a whiz. Like in a really short period of time. It's that simple.
Where can you find us?
Our "virtual office" is headquartered in Springfield, Missouri. The decision team are located within minutes of each other. We reach out to others for projects when needed. We're lean. That's our formula for quality control.
Why choose us?
We do websites better than anyone and particularly for phone users. That's what you want as your face. You can then decide which DMS, CRM, SEO Marketers, Digital Specialists, email Marketers or Classifieds (like Craigslist or RV Trader) meet your changing background needs.
STATS
Units in RV Library

Updates ytd

Mobile Users Ave

Ave Page Views

Bounce Rate Ave
Check out our work.
Price | Flexibility
Start with us. Then build your team with the DMS, CRM, email and digital marketing partners you want. We work well with ALL of them.
Our Package
Priced as Flat Rate OR Units/Month
Month-to-Month Term
No Set-Up Fees
Launch Ready in Days
No Boarding Fees
No Banner Art Fees
Unlimited Pages
Unlimited Revisions
No Revision Fees
No DMS Integration Fees
No CRM Integration Fees
No Data Import Fees
No Data Export Fees
No Digital Integration Fees
No Cancellation Penalties
Full Library Access
Phone & Email Support
FAST Service Response
Very Different!
"Want to switch websites but faced with a Termination Penalty? We'll work with you on that."
"Don't settle. You can have a new site in just a few days!"
"We integrate systems with many dozens of different vendors."
"Is there a feature you need? Show us. We can most likely do it better"
Get in Touch
Need more information? Send us a note.